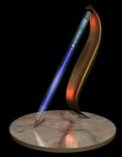 Find Additional Essay Resources On-Line
---
Many other sites online contain resources you may find useful in completing your essay. Those listed below are just a few that offer pertinent advice and information.
---
The Big Essay--Help with the college application essay.
The Color Code System--This is a set of materials you can purchase and download to help you write better essays.
Creative Writing Resources on Lifetips.com--Resources to help with creative writing.
Easy Essay--Tool for planning your essay points.
eslwriting.org--Teaching ESL students how to become better writers.
Essay Punch--Online tutorial that walks the user through the steps of writing an essay.
Explore Writing--How to write almost anything.
Four Paragraph Essay--An example with explanation.
How to Write an Essay--Includes examples of good and bad writing.
How to Write an Essay--A logical approach.
InkProvoking--A new creative writing prompt every day.
Language Foundry--Creative writing advice.
MGuidelines for Presentation of Papers--Focusing on literary essays (essays about a book or other piece of literature), it includes tips on using quotations and citing sources, as well as information about comparison/contrast essays.
The Nuts and Bolts of College Writing--Detailed and comprehensive guide to college writing.
Paradigm On-Line Writing Assistant--In addition to general writing tips, it includes guidelines for several specific types of essays such as exploratory essays and argumentative essays.
Paragraph Pal--Interactive help for grammar and writing.
Paragraph Punch--Online tutorial that walks the user through the steps of writing a paragraph.
Purdue University On-Line Writing Lab--Use the Handouts section to find information on writing.
Structure of the Five-Paragraph Essay--A colorful and organized guide.
WordCalc--Counts the words.
Wordstorm--a visual brainstorming tool to help with getting started.
Write It Now--Download software to help with writing novels, for free. This is not useful for essay writing particularly, but if you are interested in writing longer, more story-based works, this software might be worth looking at.
The Writers Block Online--Tips on writing and grammar.
Writing.com--Resource for creative writers.
Writing a Critique of a Novel--Quick and informal list of questions to think about when analyzing literature.
Writing Den--Includes information about writing different types of essays, including Definition, Classification, Description, Compare and Contrast, Sequence, Choice, Explanation, and Evaluation.
---
I do not endorse any of the below services. Use these services at your own risk. Some of these sites charge a fee for their services.
---
Click on one of the links below to see books at Amazon.com related to that subject. By clicking on one of these links and then making any purchase from Amazon.com, you will help to support this site.
---

If you have a suggestion for a link to be included on this page, email me.
Return to the essay home page.

---
This site created by Kathy Livingston
Email Me
All Rights Reserved